Hello marketing gurus! Hope you've been having a good start of the year despite going through some global crisis. While we are all staying home doing some self-quarantine, we thought we would start a new marketing series on emerging technology. So by the time we are back to normal, we will be ready to rock n' roll!
In 2019 Augmented Reality (AR) and Virtual Reality (VR) have undoubtedly gained the advertising world's attention - with brands like Samsung, Volvo, WWF and IKEA already in the game. According to BCG Marketing Executive Benchmarking Study, 90% of large consumer advertisers in the US use or plan to use AR in their campaigns.
Adding an extra spark to the world around us? - Augmented Reality
Some define the smartphone's camera as a connection between users and the world, as people increasingly engage with the world through its lens. Marketers see augmented reality as an opportunity to create whole new experiences which blend in both the physical and digital realities, e.g. brand play, wayfinding or product try-ons. If marketers have yet to immerse themselves in such technology, who is? Well, the AR audience comprises mostly of Millennials and Generation Z who treat cameras as a means of communication - and are willing to invite advertisers to join the conversation.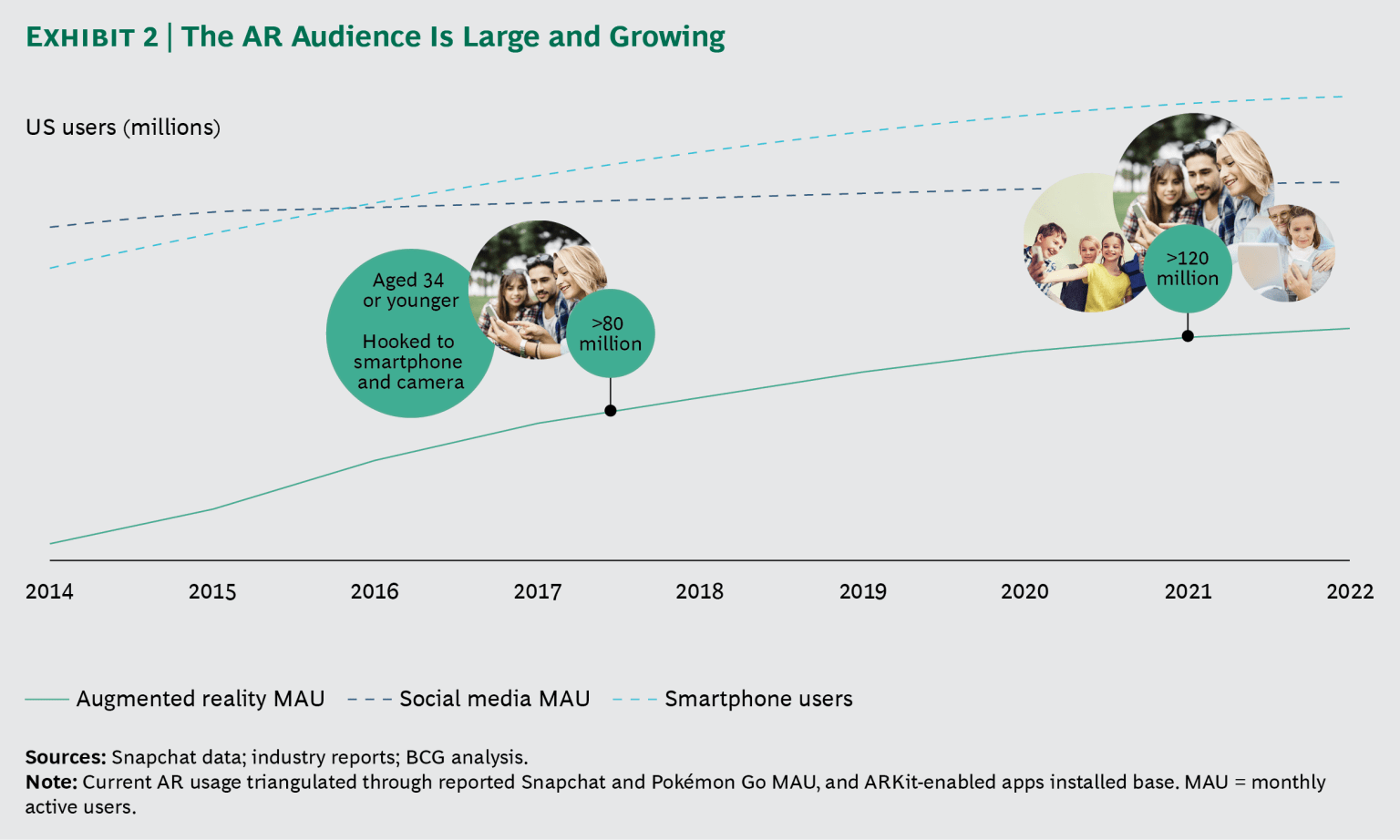 There are 2 ways that advertisers can use AR-based content to reach consumers. First-party means are brand-owned and managed apps or platforms which together make up a very fragmented market. Third-party means in general are less available, but include some well developed applications such as Snapchat and Pokémon Go that aim to reach much wider audiences.
Big players like Facebook, Google and Amazon keep themself busy making their best to call the tune. Simultaneously, there are many smaller but specialized players such as advertising networks, who are actively defining their roles in this fast-developing AR ecosystem. Both types of businesses play an important role in the value chain, increasing the possibilities for marketers to tap into this new technology.
Engaging consumers with AR - who is leading the game?
2019 was an important year for Augmented Reality as many brands embraced it to enhance the shopping experience of modern customers and reach more users with AR ads. According to the graph below, the AR market is about to skyrocket and reach US$198.17 bln in 2025. Why is it projected to grow so much?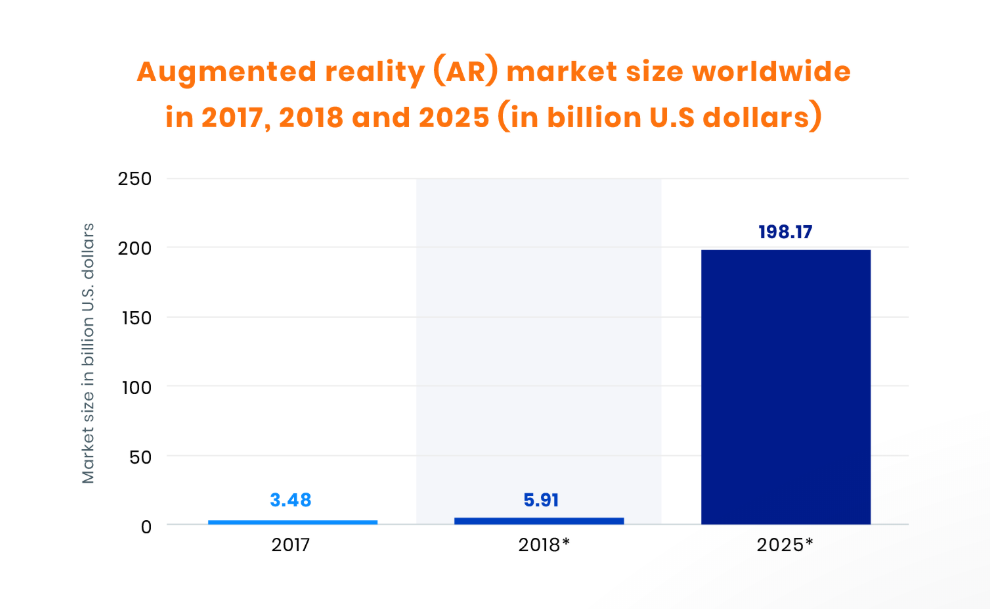 Source: Statista
Emotions
AR ads involve consumers to interact with them and wake up emotions which, in turn, make content more memorable and enforce brand awareness. As branding is no longer about what companies say to customers, but about what customers say to other customers - creating positive memories and associations through the use of AR is a great way to create loved brands.
According to Nielsen's Superdata report, 61% of users share AR ads which they see on the Internet. 35% of them do it to their social media followers and 26% - to close friends and family. This proves the emotional connection they develop towards a piece of advertising - a feeling that makes them stop for a while and make others see what they have just seen.

How is the emotional connection created? When users truly immerse in the content, they develop a certain type of relation with it. On top of that, many consumers compare interacting with AR ads to playing a video game (RubyGarage) - and we all know how emotional we get when we are deep in the competition mode. Another type of interaction with AR ads is virtual try-ons which make it possible for people to visualize how they would look in products like glasses, shoes or jewelry they find in online stores. Therefore, AR plays two roles here - increasing brand awareness and creating positive memories connected to a brand, and bringing sales up. At the end of the day, who wouldn't buy a product if it's so easy to try it on without even going out of one's apartment?
Saving Money
A big advantage of AR ads over for example print ads is that there is no need to buy space in popular media such as magazines, radio or television. Marker-based AR ads entail only a so-called marker - a piece of visual that needs to be scanned to run an AR ad. Location-based AR ads, in turn, don't entail any markers and literally view content on a smartphone's screen (e.g. in maps app) based on a user's location. This can be a big help for local business owners as they can showcase products or places and give directions on the spot. Finally, one AR app can be used for multiple campaigns - which is a further money-saver.
Target audience
In general, audiences seeing AR ads are interesting to brands. How exactly? Almost 70% of them are less than 35 years old, and they earn $63,000 on average (Superdata Report). Additionally, 40% of consumers that belong to Gen-Z, which makes for over 20% of all AR users, leverage AR for self-expression.
VR - increasing adoption or unjustified over-spending?
This year, the number of VR headsets sold is predicted to grow to US$82mln (Statista). Compared to 2017, it means an increase of over 1.5 thousand percent. According to the same study, the market of consumer VR software and hardware will be as big as US$16.3bn in 2022. What is the reason for such high numbers? Let's look into the topic of VR more closely.
Pros and cons of VR
The most important advantage that VR brings to marketers is the possibility to make consumers "travel" to places they wouldn't be able to visit otherwise - and communicate exactly what they aim for, exactly where they aim for. It, to the current highest possible extent, develops a sensory experience for users, involving sight, hearing and even other senses. There are various purposes that can be achieved by the use of VR ads, for example educational or entertaining - but as for 2018, games had a share of 48% within the VR software market. Similar to AR, most of the content is consumed on mobile phones (here with mobile phone based headsets) - in 2016, it was 87%.

However, these technologically advanced ads are a big spending for brands as their creation requires substantial investment and they cannot be effectively repurposed. A question arises whether the return on investment is high enough to justify the expense. Moreover, VR needs consumer electronic devices which enable the use of this technology and therefore a dependency exists. A simple analysis proves that the technology is not as accessible as its immersive tech twin - AR.
How are brands using VR?
There is no better inspiration for your own campaigns, or a way to holistically comprehend the new trend, than analyzing ideas already implemented by well known brands. According to VR Brand Power Index by YouVisit, 75% of the Forbes World's Most Valuable Brand have already utilized immersive technologies in their marketing activities.
Hiking experiences
Two well known outdoor sports brands, Merrell and The North Face, attempted to give consumers a real hiking experience - without a need to travel - and showcase the character of their brands. Merrell, as a part of their newest hiking shoes campaign, developed an experience of walking on various surfaces and navigating around mountain-specific obstacles, and made it available to a wide audience at one of the festivals. The North Face, in turn, made it possible for people to hike in Nepal and Yosemite National Mark - at the same time presenting (or giving reasons for buying) their hiking shoes.
Travel
We all know Toms Shoes for how much they help those in need, giving one pair of shoes for every pair bought at one of their stores. Some time ago they went one step further in encouraging people to support their mission. The brand decided to use VR to make people travel to Peru and give a pair of shoes to someone "in person" - raising big emotions in participants. As we have emphasized above, this can also be a highly effective sales boosting tactic.
What's next? - the future of AR and VR ads
Here comes the question - are AR and VR ads a future trend or soon-to-be-obsolete technology that marketers are temporarily experimenting with?
We (and the data) say - the future. The Augmented and Virtual Reality market, forecasted to reach US$18.8bn in 2020, is predicted to further expand in the next couple of years. As consumer spending makes up the largest percentage of the AR/VR market worldwide and the target group is responsive to advertising content, there are a lot of possibilities that marketers simply need to tap on. However, we would like to focus more on AR ads in the prediction, as we believe the ease of consuming such ads creates a big advantage over VR ads - which for now require a whole headset to be displayed.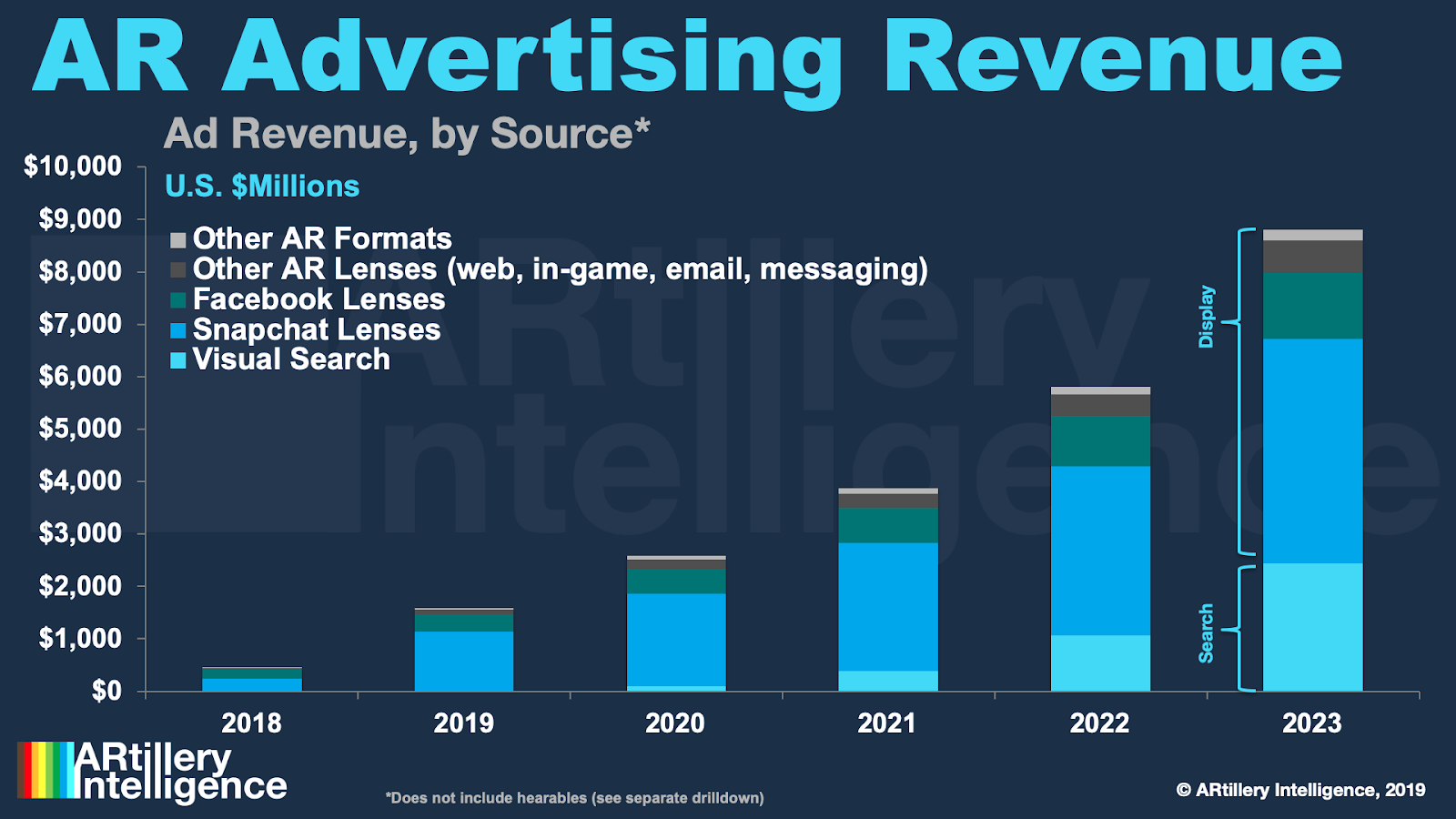 The graph above shows the AR Advertising Revenue growth by source in the next 3 years. It is surprising how much of the ad revenue is predicted to be taken by Snapchat Lenses, as some time ago the Snapchat app was said to be soon completely replaced by Instagram Stories feature. Facebook Lenses will also increase their share - but not to the extent that Snapchat will do. It is no news that big players such as Google are doing their best to make Visual Search really happen and therefore we do believe the search aspect of AR advertising will be of a big importance. In overall, advertisers will earn about 3 times more on AR ads than they do in 2020 which shows a dynamic development of the market - and definitely contradicts an idea of soon-to-be-obsolete technology.
When it comes to the types of AR ads utilized, although front camera AR is currently the most applied variation, rear-facing AR ads will also grow in popularity as brands such as IKEA (with their IKEA Place app) play the role of trailblazers. Other brands, seeing the success and development, are likely to follow and explore new usages of this marketing disruptor. However, the currently most popular application of AR ads - virtual try ons - are here to stay as they effectively help consumers and facilitate their buying process, boosting sales. We do think there is still a lot brands can do to enhance the experience, for example by implementing AR try ons in physical stores and reducing time customers spend on actually trying clothing on.
AR and VR are here to help brands get on a whole new level of advertising - what they need to do is truly understand the expenses and make good investment decisions in order to create high quality content for more and more demanding audiences. Providing young consumers find the content interesting and immerse in the experiences offered by brands, a big cake appears on the table for brands to share.