First of All, What is Ad Tech?
Advertising Technology (Ad Tech) is a broad term referring to "different types of analytics and digital tools used in the context of advertising" (Techopedia).
Ad tech is often associated with specific solutions to target specific audiences and individuals. Simply put, ad tech is both the elements that users see, e.g. digital banners, and the technology behind it, e.g. the aforementioned targeting tools.
With the development of technology, digital advertising has become an important aspect of how companies build brand awareness and sell their products or services. Therefore, ad tech is now one of the front page topics for digital marketers to look at, discuss and learn about. Reaching customers "with the right message, at the right time" seems to be more difficult than ever - but with advanced solutions accessible both to the sell- and buy-side - appropriate strategy makes it possible to win in this dynamic marketplace.
There are more things to know about ad tech than one can imagine - and no one can keep up with all the changes. However, understanding main trends, learning how to grasp the most important changes, and the direction in which the development is going is necessary for anyone who wants their brand to succeed in this digital age.
How Ad Tech is Related to the Retail Industry
Modern solutions allow online retailers to understand shoppers who visit and complete or, especially interesting, do not complete a purchase better than ever. They double and triple their efforts on ad tech, hoping to target more effectively and better monetize on their marketing activities. Digital marketers wish to reach visitors with the right messaging - at the right time. What is the right time in terms of retail? First and foremost, moments when users are already in a shopping mood, like when they are visiting e-commerce marketplaces and online stores. Don't you get the impression that these sites have become a gathering for ads, pop-ups and other elements that all we wish to do is block? Large retailers benefit from marketers' tactics and successfully earn on ads they run. The mechanism is run by businesses serving display ads on such websites and is made possible by the fact that retailers want to get as much money from sellers as possible - like they do offline.
Giants like Google, Amazon and Facebook truly participate in the ad tech ecosystem, running auctions on their RTB exchanges and providing advertisers with header bidding interfaces - working with multiple ad formats. In order to avoid ad fraud and ensure viewability, they cooperate with IAS or MOAT; to facilitate a more transparent campaign reporting - yes, they use third party vendors too.
As mentioned before, smaller retailers can benefit from ad tech to effectively collect, store and process data regarding their visitors. Combining unique visitor data with that of an external DMP, allows retailers to create campaign audiences (which can also be acquired from brands with an understanding of data privacy laws). It makes it possible for them to fully understand the sales funnel and user journey to create insightful reports which are highly valuable for business.
Further, ad tech is also becoming present in offline retail. Retailers are trying out new technologies to understand shoppers' characteristics, just like digital marketers do with the use of cookies, and provide them with personalized ads. Developing both the digital marketing potential and offline activities can create a great omnichannel experience - something we have tackled previously.
Some Big Ad Tech Moments in 2019 - Brand Tech, A.I. and Chatbots
Let's have a look at what happened in ad tech in 2019.
Spendings on the rise
According to Forrester Research, digital marketers will increase their martech spendings by 27.1%, reaching $122 bln, by 2022. In 2019, ad tech investments have been getting larger as well - both in terms of acquisitions and firms' actual spendings. When it comes to particular sectors, financial services will grow by 11.8% and household goods - 10.5% which makes these two the fastest growing industries for ad tech investments. At the same time, retail sector will only note a growth of 2.6% making it the slowest growing sector.
In the first two quarters of 2019 in the U.S., US$57.9 bn was spent on digital advertising (PwC) which was an increase of 17% compared to the first two quarters of 2018. However, the growth was slower when compared to the previous 6 months - for the first time since 2009. According to GroupM's report, Internet-related advertising is currently the most important medium globally. Ad tech revenue is highly concentrated, just as it has been for the past 10 years, varying from 69% to 77% going to the top 10 digital ad companies.
Rubicon, a digital advertising infrastructure company which automates buying and selling in online advertising, sums up the 3rd quarter of 2019 pointing out that their revenue of $37.6 mm meant a YoY revenue growth of 27%. Facebook saw a total ad revenue of $17.7 bln for the 3rd quarter - and 94% of it coming from mobile ad revenue. They estimate that more than 140 mln businesses are using their services every month to grow and so they give them free resources and ensure they have the skills to use them effectively.
Brand tech - keeping up with branding and performance
Brand tech is "a belief that, thanks to technology, it is now possible to do all marketing better, faster and cheaper" (Airport Business). According to David Jones, former CEO of Havas and the founder of You & Mr Jones described below, "the term brand tech accompasses how brands can build capabilities in technology that respond to (...) demands of the digital age". Because of the development of technology, people consume content in all forms - and marketers need to be able to first create it and then be able to advertise it to cut through the crowd. However, because of the same technology, they have unlimited possibilities in terms of leveraging the data and cutting on costs related to old school advertising methods.
2019 has brought our attention to the topic of brand tech traps. Many brands' growing focus on performance-driven marketing for short-term conversion seems to be backfiring on them with the lack of long-term vision for brand recognition. They tend to go after sales and not keep up with their brand image - an approach that will become a disadvantage in the long run. To understand the importance of the topic of brand tech, You & Mr Jones, a brand tech firm focused on brand communication, has recently raised US$200 m in a funding round - attracting clients such as Herts, Adidas and Unilever (Exchange Wire).
Focusing solely on efficiency rather than effectiveness led companies such as Adidas to obsess with ROI and over-invest in digital - sacrificing some of their brand building activities (Marketing Week). According to Simon Peel, Adidas' global media director, the company's mistake was trying to reduce particular KPIs costs rather than taking up initiatives beneficial to its brands. Therefore, they decided to focus on generating brand desire and drive digital ad spending more wisely by utilizing an econometric model and investing in CRM. Research conducted by the company brought about interesting discoveries, e.g. that brand activity drove 65% of wholesale, retail and ecommerce sales - and at that time, only 23% of their advertising budget belonged to brand.
Similarly, P&G, the company that is one of the biggest investors in ads worldwide, has decided to focus more on creative partnerships rather than solely measuring ad performance.
As shown on the graph below, only 9.1% of marketers claim their company's understanding of data-driven attribution to be excellent. Most of them wish they could better understand how their budgets are spent on ads, avoiding too simple models such as last-click attribution.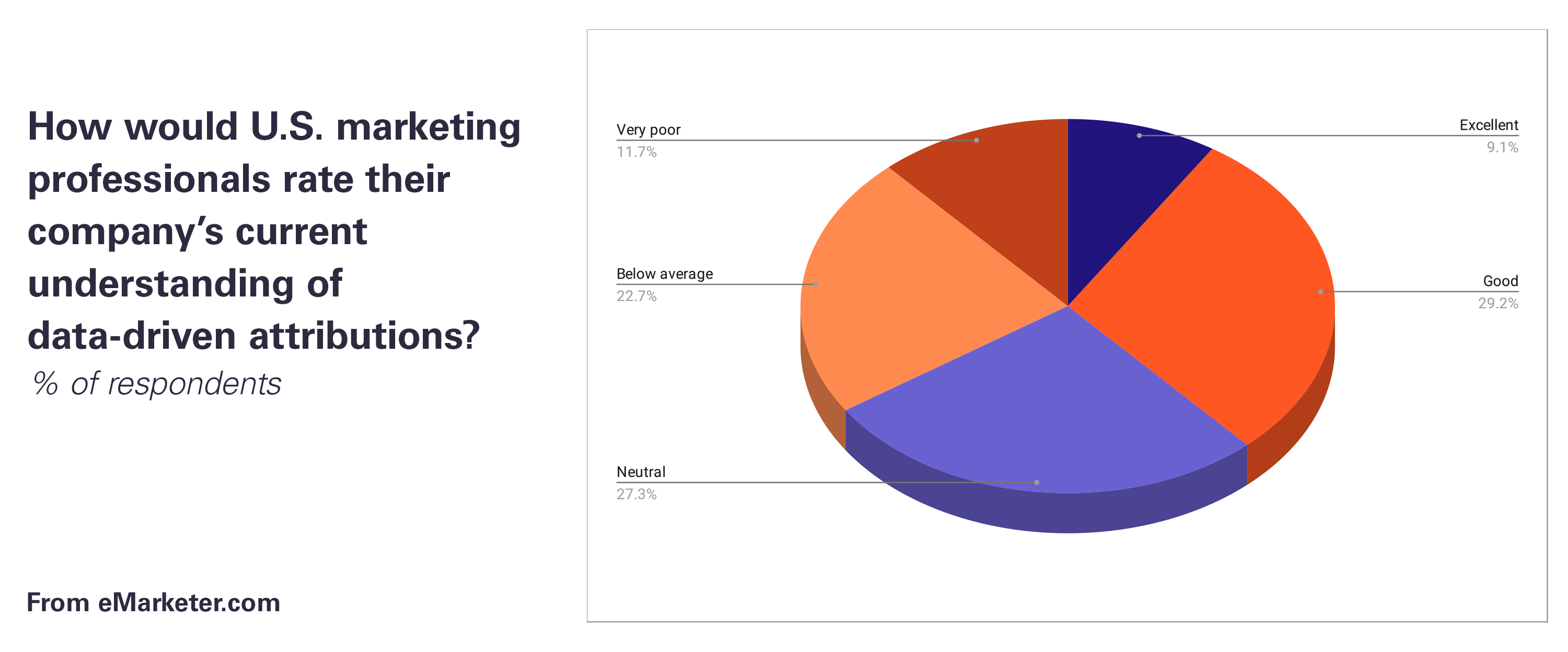 But why do brands practice the short-termism? Above all, they want to grow sales quickly to satisfy shareholders. Focus is put on ROI and ROAS (return on ad spend) instead of activities regarding the long-term vision. Econometrics and testing can give way more to the brand than just doubling up on investments in ads.
As demonstrated above, in 2019, some brands started to see the trap, but there are many more that constantly drive up their ad expenses. For example, Booking Holdings, the world's leader in online travel, has spent US$1.19 bn on performance marketing in Q2 2019 and in Q3 2019 announced increasing advertising spending on TV, online video and display ads by 41%.
Brands such as P&G do not have to worry about data collection anymore, having immense data bases letting them plan precise strategies. It is hard not to think that maybe this is the reason they can move away from digital ad spending - they simply can move the focus further while others still have to finish measuring and figuring out what all these numbers mean to their businesses.
Analytics departments appearing in ad agencies
According to Marketing Land, data science and analytics will be the most needed technical skills in advertising agencies in the next 2 years. An analysis conducted by YouAppi and Dimensional Research shows that as much as 67% of marketers have focused more on data and analysis in the last 5 years. More and more agencies create separate analytics departments and look for talents that could work fully in this field. Specialists working in analytics departments are able to understand complex data collected thanks to modern advertising technologies which could not be done solely by computers.
Data scientists are of cornerstone importance in creating data-driven strategies for demanding clients which is reflected in numbers shown below.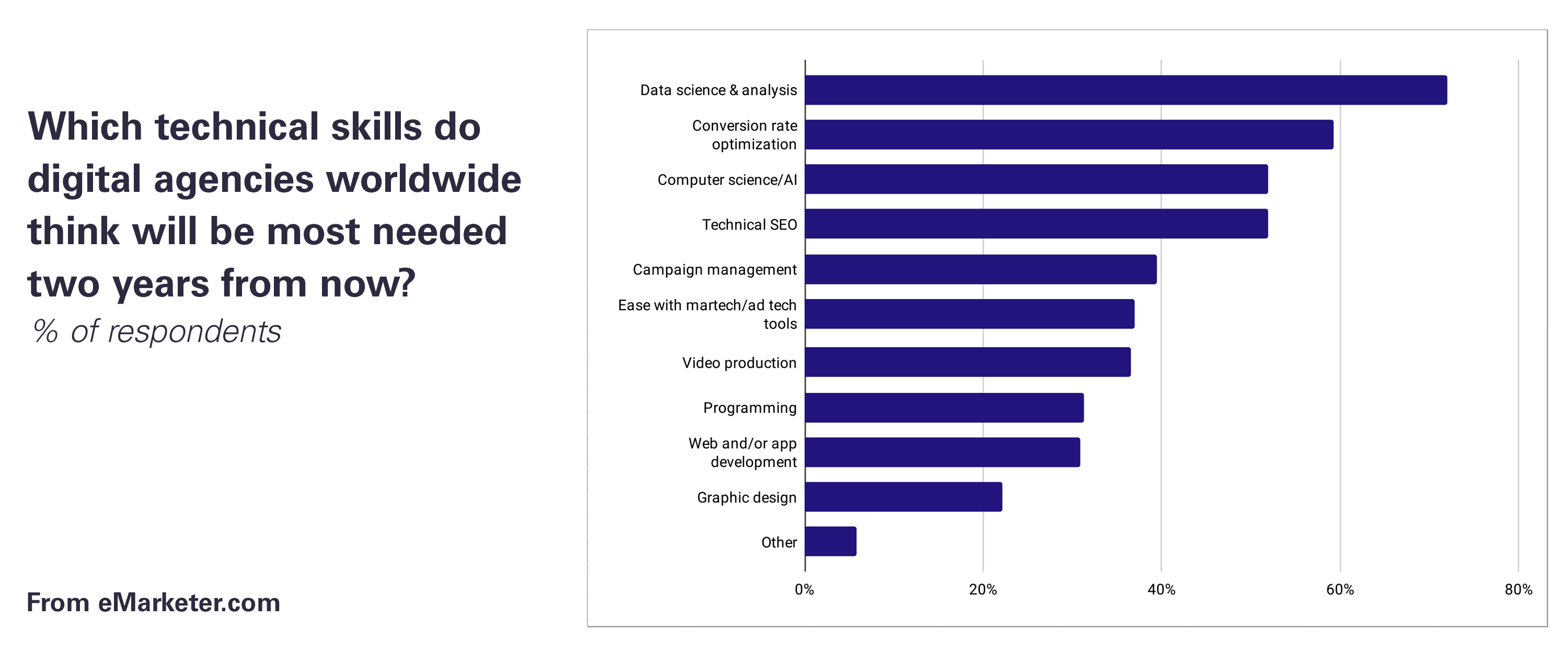 Disruptive tech: AI, AR and conversational bots
Artificial Intelligence
In 2019 AI's role in advertising has grown even more, mainly in the form of machine learning. It helps marketers identify the right target audience, create the right message and advertise it in the right time, as well as maximize ad monetization. Machine learning makes it possible to effectively allocate budget across multiple channels through the use of advanced algorithms. Modern technologies mean better understanding of brands and more natural approach to customer data, as 2019 was also a big year for NLP. In October Google published an article regarding their breakthrough BERT models which analyze words in relation to one another in a sentence - and not one by one as before.
However, as of 2019, Artificial Intelligence is still not widely applicable to marketers, as 80% of marketing professionals claim to not be using it but plan to do so in 2020 (eMarketer).
A big advantage of AI technologies is that they can free up people's time to perform more creative high-level tasks. For example, thanks to recent technologies designers can focus on complicated and not schematic projects requiring human input while intelligent platforms can independently generate simpler designs such as digital banners or social media graphics. This way, AI is a time-saver for marketing and design professionals occupied with different stages of ad creation and launch.
Consolidated media platforms
There was and still is a visible shift to easier and more efficient advertising platforms providing advertisers with end-to-end solutions. Therefore, 2019 was full of ad tech M&As - although in the first two quarters it showed a small slowdown. October 2019 was an especially hot period as companies were trying to close deals before 2020.
What was the reason for such a growth in the number of M&As? First of all, the aforementioned digital advertising on TV. Second, the development of video advertising requires companies such as Viacom and NBC Universal to create new marketplaces for video ad inventory competing with Facebook and Google for programmatic video dollars. Third, politics. Finally, as it has already been mentioned, more and more players seek to bring ad tech in-house and therefore they seek investments that allow them to do so.
Some of the significant M&As in the recent period included (Forbes):
Rubicon Project / RTK.io
Mastercard / SessionM
Roku / DataXu
Inmar / OwnerIQ
AT&T / Clypd
In Q3 2019 alone, there were 30 ad tech deals worldwide (in Q3 2018 there were only 14 of them). Thanks to the ongoing consolidations, targeting is becoming more and more efficient as advertisers understand consumer data at every moment of their customer journey. However, the market becomes increasingly dominated by a small number of big players which makes costs go up and control - down.
To Sum It All Up
2019 was full of changes and, what is particularly important to us, new challenges for advertisers.
Many brands realized that doubling up on their investments in digital ads without focusing on branding can be destructive to their long-term business. Marketers should not blindly buy more and more ads, but focus on answering the question of what effect do particular activities have on their brand image. Consistent visuals and a well-thought-through strategy are and will still be keys to digital advertising success, together with effective models determining the most effective investments in promotion. In 2020 it will be crucial for advertisers to understand the effectiveness of their ads better than before.
It is clear that the ad tech market is becoming more pragmatic. Companies perform M&As to increase efficiency and better understand and manage data. Right, data. Data is now the most important aspect that advertisers need to focus on, together with privacy issues. On the other hand, following the M&A boom, there is sort of a need to open up the ecosystem that is currently being closed to allow more control and freedom of choice.
Hopefully, 2020 will be about user privacy, effective investments and superior branding. As ad tech landscape is full of changes happening literally overnight, marketers need to carefully follow all the novelties and adjust their strategies to the market.

At dipp, we help brands enhance their brand image with a result-driven advertising design engine, combining a brand's unique style guide and their previous advertising performance metrics, to deliver a personalized design solution. This way, brands can automatically create better performing advertising banners across social media and display networks, with scientific and quantitative connections between their datasets and the design of their ads.