Introduction to digital advertising design tools and 3 reasons for why you can't rely on subjective design choices
What are online design tools?
In the past few years, both designers and non-designers found a new favorite design solution - online design tools serving business people in creating various types of visuals used in branding and marketing activities. The types of content range from flyers, business cards, banner ads, social media posts, visuals for blog articles or background images. Many online design tools work on the so-called drag and drop basis, i.e. let users pick elements from a ready made library and place them wherever they want on their working canvas.
The majority of success in these platforms is attributed to their simplicity in creating a wide variety of visual content. Unlike the professional design tools, such as Photoshop or Illustrator, anyone can now tackle the tasks of image editing, photo correction and even play around with different visual enhancements. On top of that, one can also choose from a wide collection of fonts, frames, stickers and many more to create designs.

This lack of barriers to entry of online design tools has won over many marketers' hearts - they no longer have to learn the craft of a professional designer and all they have to do is pick and choose elements they like and piece them together.
Examples of drag and drop design tools
There are more and more affordable online design tools which serve a very niche purpose or combine several features in one. Some of them are specialized in creating banners, some - mobile ads and the other ones - dynamic visuals. We have put together 3 widely used platforms to let you understand the nature of such tools.

Canva, although works online, covers both digital and print media designs. Its slogan "Design anything. Publish anywhere." emphasizes its multipurpose nature. Offering a very simple interface, many types of visuals and diverse design suggestions, it is often the first choice for non-designers just getting their feet wet. Objectively speaking, one does not have to know nearly anything about graphic design to produce a "pretty image" in Canva.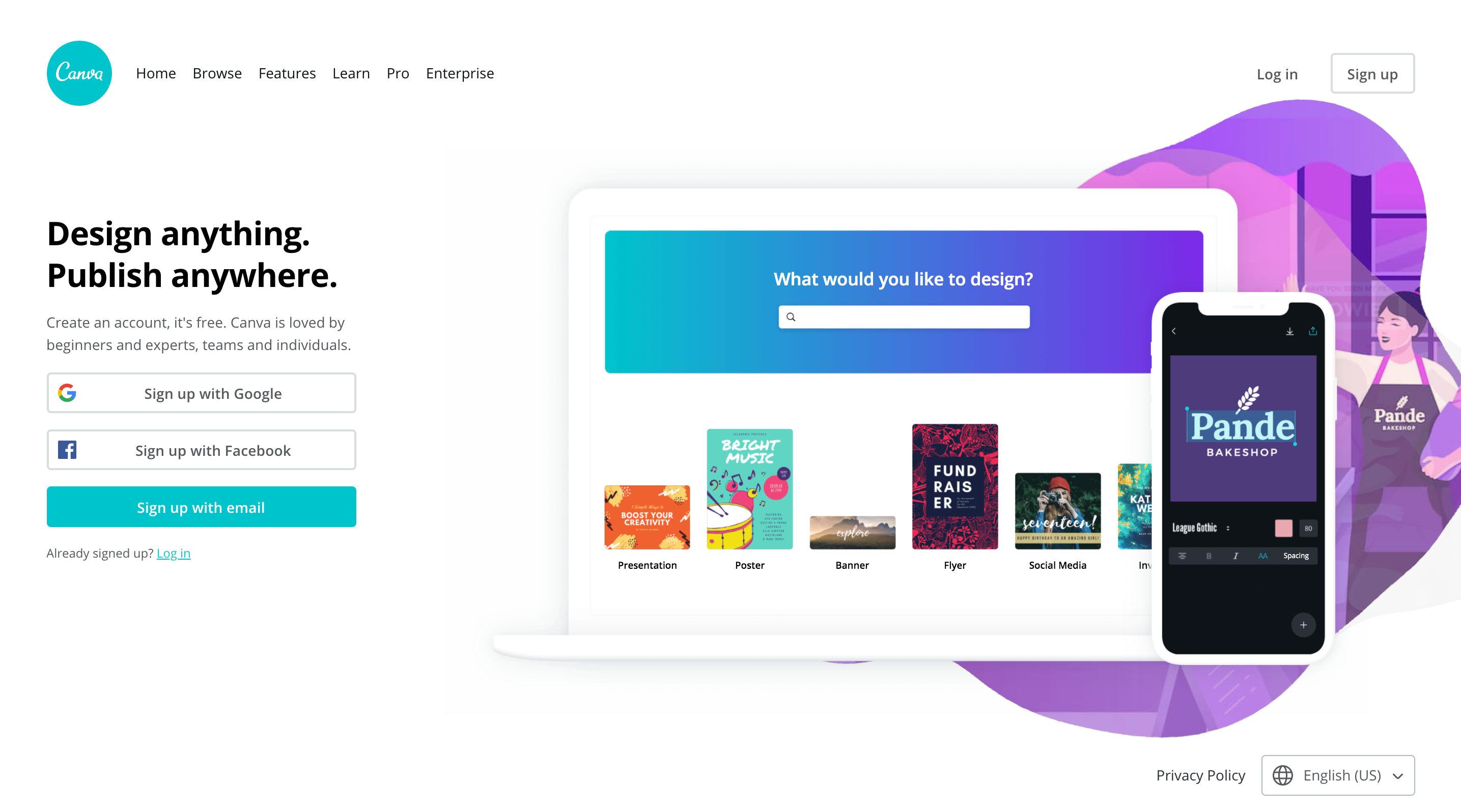 Bannersnack specializes in banner ads and lets users create both static and animated HTML5 variations of such content. They describe themselves as "The Original Banner Maker" positioning the platform as the leading banner maker. What is interesting, Bannersnack also features social media post images, just like Canva, presenting them as "carefully crafted by [...] highly experienced team of designers". Conclusion? Similarly to the previous tool, users do not have to know the rules of graphic design to have visuals created with Bannersnack.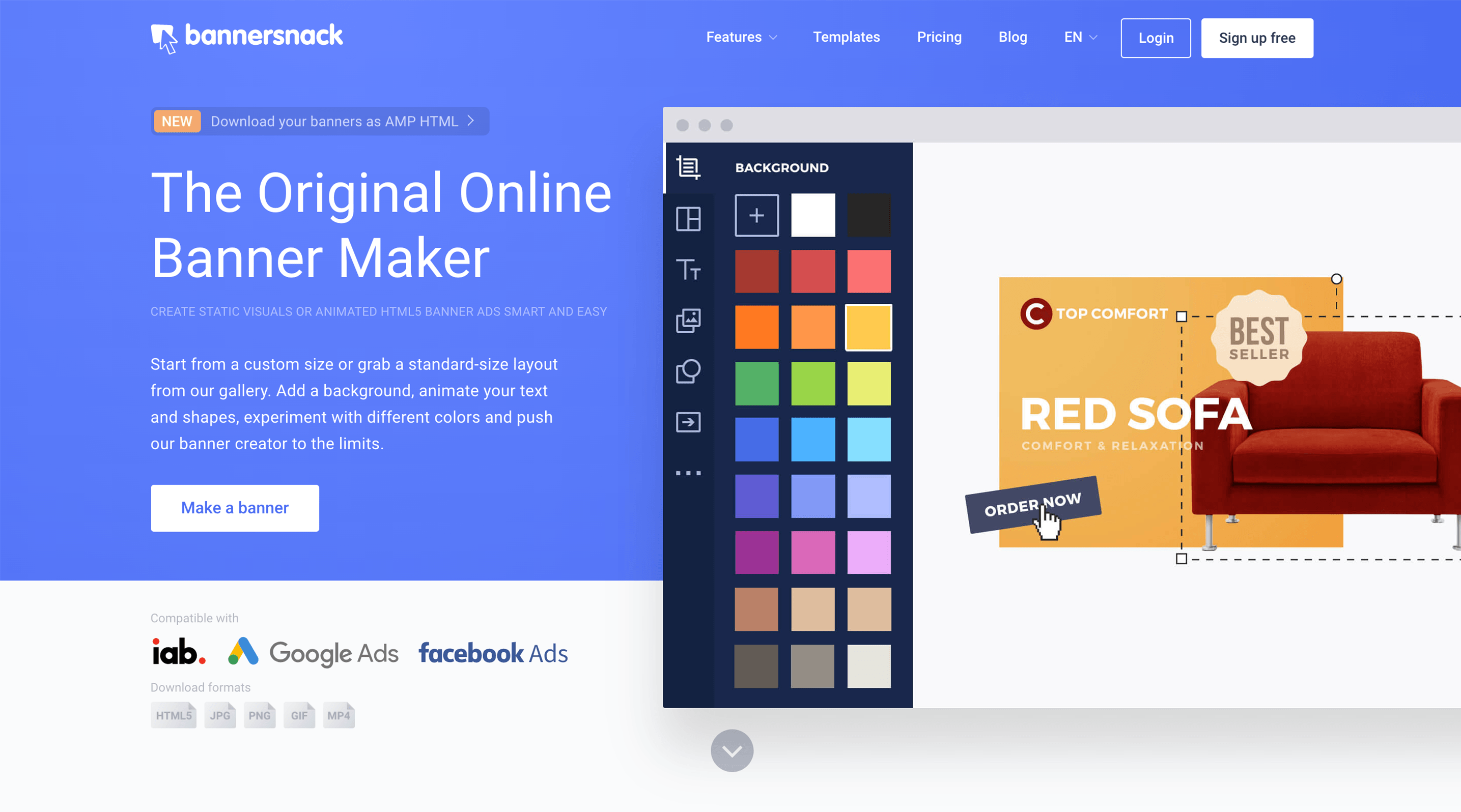 Pablo by Buffer is a design tool and photo editor in one. As you might've guessed, it is integrated with Buffer to let users post created designs directly to their social media accounts. A quick look at the website allows us to understand that the platform's visual suggestions are a major focus, taking the burden of designing off the user's shoulders.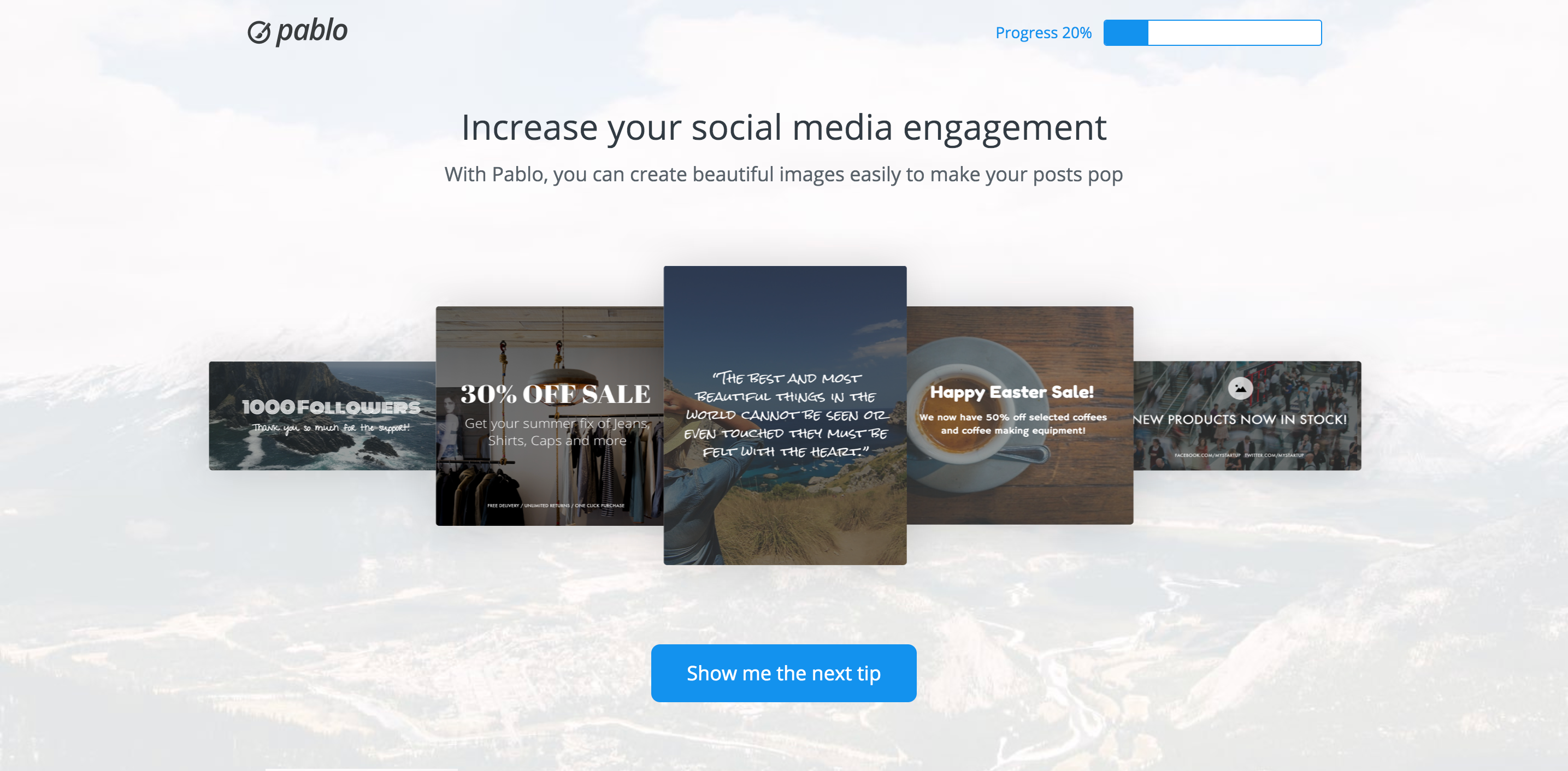 The notion of subjective design
According to Marriam Webster, subjective means "peculiar to a particular individual; modified or affected by personal views, experience, or background.'' We have already discussed the topic of getting personally involved in the design we create in one of our previous articles regarding the topic of graphic art versus graphic design. We made a conclusion that humans, however professional, cannot fully separate visual work they produce from their preferences, tastes or emotions. Therefore, even highly experienced designers tend to follow a particular style or own conclusions they came up with throughout their career. Wait… if even design gurus do that, what about aspiring designers, marketers and non-designer business owners?

The reason why we are tackling the notion of subjective design in this article is that the tools we are discussing tend to favor subjectivity. Although they are positioned as platforms that can serve both beginner individuals and big organizations, many users love them for the ease of coming up with a design. One may wonder - so subjective design doesn't work? Let us make it clearer. Not necessarily. The key point is that a marketer may create a beautiful set of visuals that will work very well for a given brand and purpose, but they will never know whether it would work or not until after they actually publish it.

Moreover, did you know that online design tools serve more marketers than designers? How is this efficient when marketers are expected to design when fundamentally, their success is not being measured by the level of their creativity? While marketers' goal is to see performance via countless experiments, designers aim to create beautiful work that can hopefully win an award someday. There is a natural conflict here, and a quick conclusion that comes into our minds - marketers don't really need to create anything artsy.
Let's have a look at some examples of how online design tools are geared towards subjective design.
First, we created an account on Canva and clicked "Create a design → Facebook App Ad".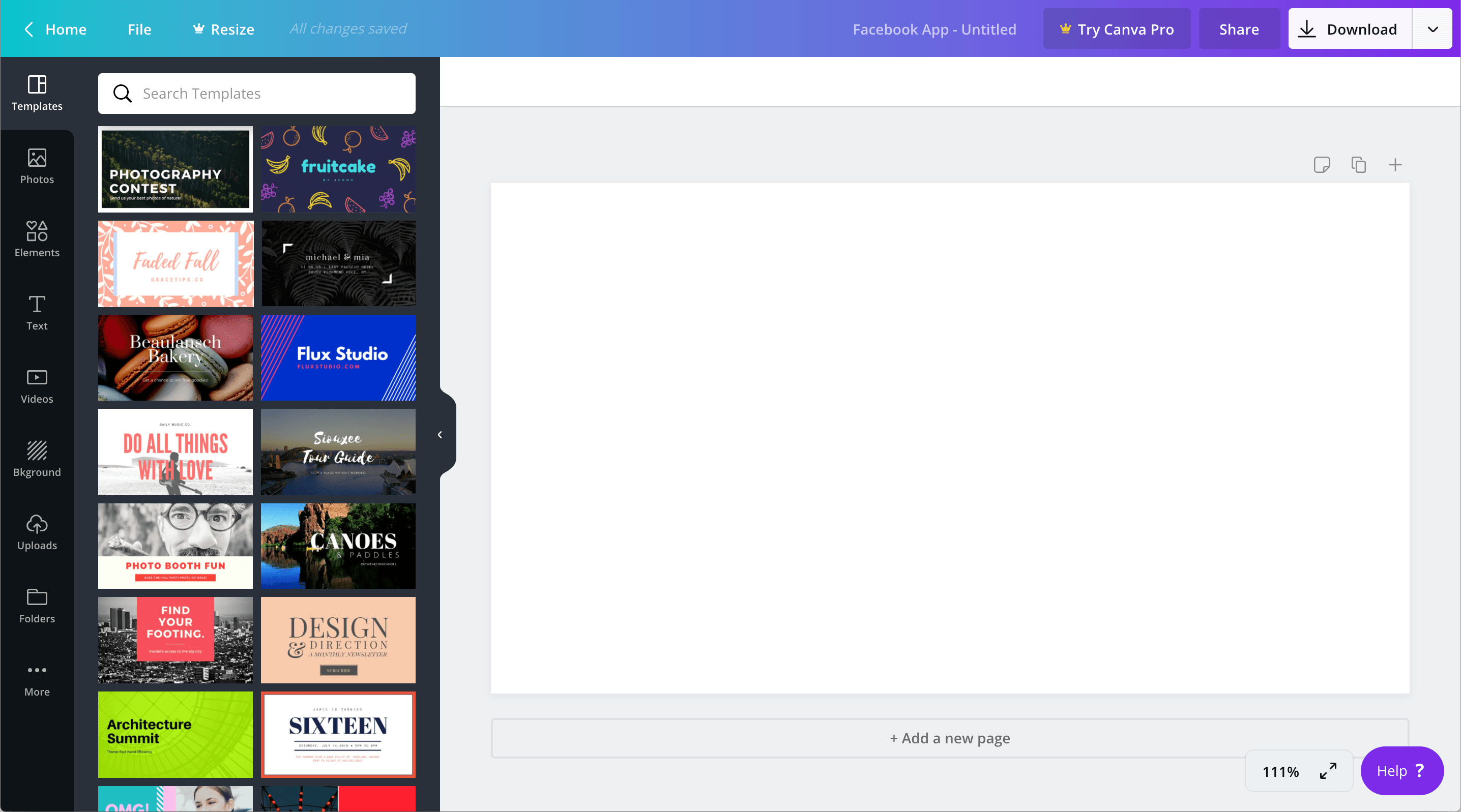 As you can see, the very first thing that a user is exposed to is a template gallery with dozens of very different design suggestions. Therefore, supposing that a person logs into the platform knowing what type of an ad they need to create - including its target audience and business goals - they are still presented with too much variety of ideas for one simple task they need to complete.
Similarly with Bannersnack's main page, we notice the sub-headline used: "Start from a custom size or grab a standard-size layout from our gallery." They do provide users with a way to create visuals from scratch using their design knowledge or data but right next to this option there is the "easy" way - ready-made ideas. But is it really the easy way?
Choosing one of the templates means you need to approve on the fonts, colors, asset sizes and placement - all at once. But who are we, as marketers, to make decisions on behalf of a team of creative souls? Moreover - making design decisions is simply not a job for marketers. And the minute a marketer tries to add their visual preference, playing the designer for digital banner ads, that is when a company's productivity and efficiency start to go downhill.
At this point - it's obvious to you that we are against subjective design decisions being made by people who aren't made to design, but let's have a look at what subjective choices mean for your business goals.
Result-driven decisions - Why you can't rely on subjective design choices?
Making subjective design decisions might be appealing to many of us, because we get a visual that we really like. We do. This relates both to using an online design tool and services of a professional graphic designer - for the purpose of creating simple ads.
However, we would like to draw your attention to the other side of this situation - your potential customers may have different tastes and needs than you. Their opinion is important because it either makes them click on your ad or engage with your post - or scroll down to your competitors' content.
Therefore, imagine yourself as a marketer receiving one banner design of a product from your designer. You publish it and 2 days later you realize that it's not working for your target audience, so you go back to your designer to make some changes. Here comes the problem — because banner design is not the designer's only task so now you have to wait for 3 days for the change to be made, all that while running an ad that doesn't work, or not running an ad at all! Alternatively, imagine you have to recreate all the banner ads by yourself in all the different publishing sizes with one of these online design tools - we bet, as a marketer, you will either get stuck at making the most effective design decision and/or get mixed up between all the publishing formats you are required to do.
There is a lot of hype about result-driven decisions, and advertising design is no different. Predictions regarding the future of advertising say that a lot of production designers' work will be taken over by machines which can create visuals precisely based on data and adjusted to a particular users' needs - in that particular moment and stage of the sales funnel. Real creative work will be left for humans to shine. Imagine this as a solution for the situation described above, you will have access to a tool that can understand your brand, help you build a personalized ad engine and generate multiple versions of ads fully consistent with your brand - in seconds. This way as a marketer you can easily create content, conduct split tests and update content, perfectly knowing what worked and not worrying about what didn't.
To conclude our thoughts, we have put together reasons for why making solely subjective design choices is not the best way to work for your marketing department:
You never know whether a subjective design will work until you actually publish it and discover - possibly wasting a lot of time on creating visuals that don't work
A/B Testing - It has been proved that A/B Testing improves content engagement, reducing bounce rate and leading to higher conversion. It can be achieved by conducting analyses about what works well for a given group of users and what doesn't. A/B Testing is nothing else than basing decisions on data instead of subjective choices - but it requires a substantial effort from marketers as they need to prepare all the copy and visual variations to test in advance.
Every user is different - Depending on age, gender, interests and many other demographic traits, people will favor different visual elements. For example, men are positively influenced by highly visible logos because brand names are important to them. Therefore, the exact same ad shown to men and women may show different result metrics - unless well adjusted to a given group's needs. What's important is that, this is just one factor out of many and a human being simply cannot account for all the variables - and properly prioritize them to make the best design choices. On the other hand, machines can use data to generate optimized banners and other digital ads and maximize their performance among different target audiences.
Many people working on the same brand's designs = inconsistency - Let's imagine that 5 people from a marketing team create ads for the company. If every one of them bases design decisions on their taste, one brand would have many faces. As we know, brand consistency is one of the keys to success in terms of brand recognition, trust and user engagement. You can read more about the topic of consistency here.
Good practices - how to increase your ads' performance
Distinguishing between visuals that (1) need a significant human touch from professional graphic designer and (2) those that should have as efficient of a process as possible which can be automatically generated is key.
Let's focus on the latter. In order to produce truly effective ads with an efficient process, you need to match visuals with the audience's needs and preferences. Basing such decisions on data - instead of personal preferences or a design platform's suggestions might turn out to be a bonanza for your business. Of course, online design tools might be a great help, but we suggest you use them for different purposes rather than mass advertising focused on generating traffic and conversions. If you are looking for ways to improve metrics such as CTR and other marketing success indicators with the help of your visuals, you might want to try innovative tools that generate multiple designs at once - letting you experiment, analyze data and drive choices by numbers. There are also sources educating marketers and business owners on the psychology of digital ads and other visuals used online to help them be more aware of efficient decision making in graphic design.
Summary
Modern businesses have a vast array of choices when it comes to how they can meet their graphic design needs. One of the options are online design tools such as Canva, Pablo or Bannersnack which allow users to drag and drop the elements of a visual and adjust all of them to their choice. However, such platforms are focused on subjective design approach, leaving all the decisions to users - be it manually picking fonts and images or deciding on a ready-made template. In this way users never know whether their designs will work or not and tend to waste a lot of time on creating many ad sets when a need to update content appears.
Basing design decisions on data is an innovative approach allowing businesses to significantly improve their digital ads' performance. This can be achieved by matching images with audiences' needs and preferences and therefore creating a higher user engagement with a given visual. The fastest way to achieve that is conducting split tests with various ad sets - and choosing only the content that actually works for your brand, for a given audience and purpose.