Case studies
Pandora defies pandemic business outlook & grows by optimizing their e-commerce process
In the wake of the Covid-19 pandemic, projections for the well-known Deanish jeweler Pandora we looking dim for 2021. In spite of the harsh outlook, Pandora's financial report for 2021 showed a robust 23.07% year-on-year (YoY) growth in revenue. How was their Taiwanese e-commerce enabler agency, xinxin, able to take advantage of this and have a stellar year?
---

In the wake of the Covid-19 pandemic, projections for the well-known Deanish jeweler Pandora we looking dim for 2021. In spite of the harsh outlook, Pandora's financial report for 2021 showed a robust 23.07% year-on-year (YoY) growth in revenue. How was their Taiwanese e-commerce enabler agency, xinxin, able to take advantage of this and have a stellar year?
The well-known Danish jeweler Pandora landed on the Taiwan market in 2010. With its focus on personalized stories, it was able to capture the hearts of women. In 2021, even though the Covid-19 pandemic impacted many retail brands and especially wedding-related industries, Pandora's revenue showed growth against the impending recession. According to the public financial report information released by Pandora 2021 , it has grown by 23.07% compared with the same period the previous year, and its operating income reached 5.839 billion.
Instead of expanding into additional sales channels, Pandora focused on existing operating channels which were their official website, Momo and Yahoo! flagship stores. In the era of multi-channel and offline sales strategies being an absolute must, how was Pandora able to bring in such revenue without expanding channels and maintaining physical stores.
Keys to success
1. A minimalist approach to visual design. Bet on consistent branding and product photography and let the product tell the whole story.
2. Such design simplicity allows to save production time when designing and reviewing product visuals. These newly available design resources allow Pandora to create and launch and refresh more products at a much higher frequency.
3. Pandora's official online channels adopted a direct-to-consumer model and was able to ensure that branding, product descriptions and offerings is always consistent and synchronized.
---
Pandora is known for its flexibility when it comes to customizing. Anyone can piece together bracelets based on their own unique life stories, making them the obvious choice when it comes to jewelry pieces for families, friends and organizations.
One of Pandora's strengths is close attention to customers, and this allows them to quickly respond to customer feedback and expectations all-the-while interacting with their customers of new releases and updates. All lets Pandora stay on top of world events, fashion trends and launch new products in a timely manner without sacrificing brand equity, even when collaborating with world-renown properties like Harry Potter, Marvel, Disney, etc.
All in all, Pandora operates 18 physical stores in Tawian in addition to their official website, Momo and Yahoo! online stores.
The key to growing revenue against the pandemic-driven trend
Pandora, being the affordable luxury brand, makes most of its revenue from major events, weddings and special moments. Annual holidays like Mother's Day, Valentine's Day, Christmas and New Year's are big exposure opportunities that require nurture and follow-up before and after the event.

On top of all that, Pandora has a wide variety of products, ranging from a more affordable range to high-end luxury items. All these diverse products, must be updated frequently for every sales channel Pandora sells through. Updates can range from 100s to 1,000s of products, multiplied by color variations, sizes, fit, etc.. With this much variety of products multiplied by the many sales channels, ensuring consistency seems like an insurmountable task. Product photography must be consistent, text size, colors, composition all must be consistent, since Pandora's brand image must be upkept. This is typically a time of great depression for the design department as it is tasked with highly repetitive, mundane tasks that drain resources and above all, enthusiasm for creativity.
---
Minimalism is the best design. Leave the story-telling to the product.
Pandora's product visuals do not have complex design features, excessive text formatting or decorations because they understand that the product is the star and can do all the story-telling on its own without any assistance. The result is product visuals that look consistent no matter the product, and Pandora's brand language does not change even when appearing on different e-commerce platforms.
Keeping it as simple as a logo in the corner allows the product to be the focus of attention.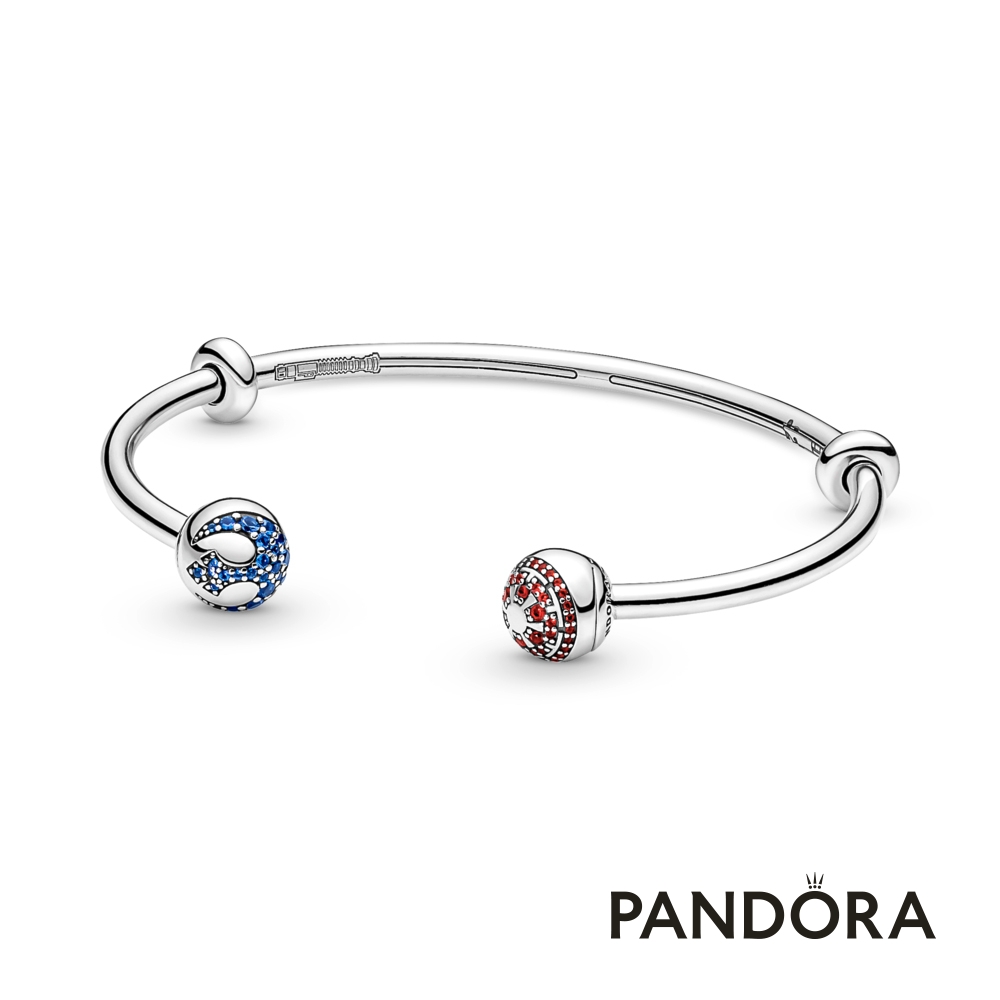 If there is a special product (such as an exclusive product launch by a momo flagship store) that requires special treatment, Pandora keeps to the minimalist philosophy and goes with a simple, brand-colored frame so as not to distract from the global brand itself and so people can still recognize the brand at a glance. It does not need a complicated visual design system, that only serves to distract users from the product, instead, it gives the product itself the maximum attention.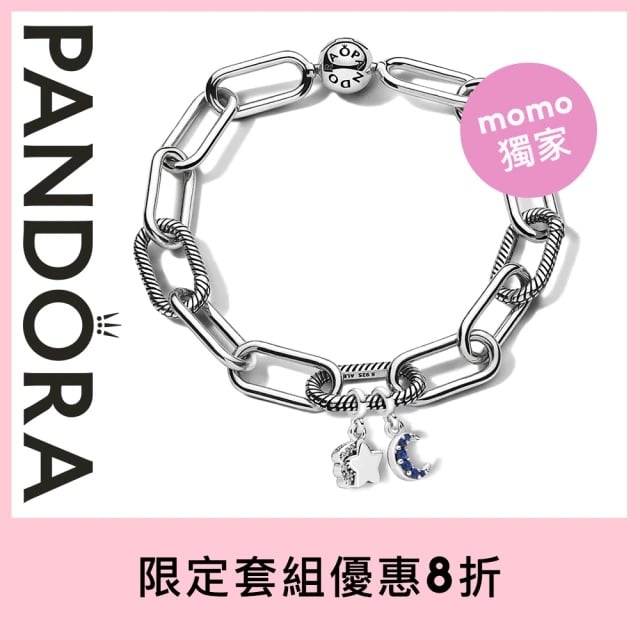 Example of Pandora's exclusive product on the momo shop platform.
With such a large number of products, use tools to optimize the design process and keep up a consistent sales schedule to drive revenue
Pandora's strategy of emphasizing storytelling allows consumers to assemble custom pieces using existing elements. Since each element requires a single listing page, this results in the largest SKU numbers of any other brand.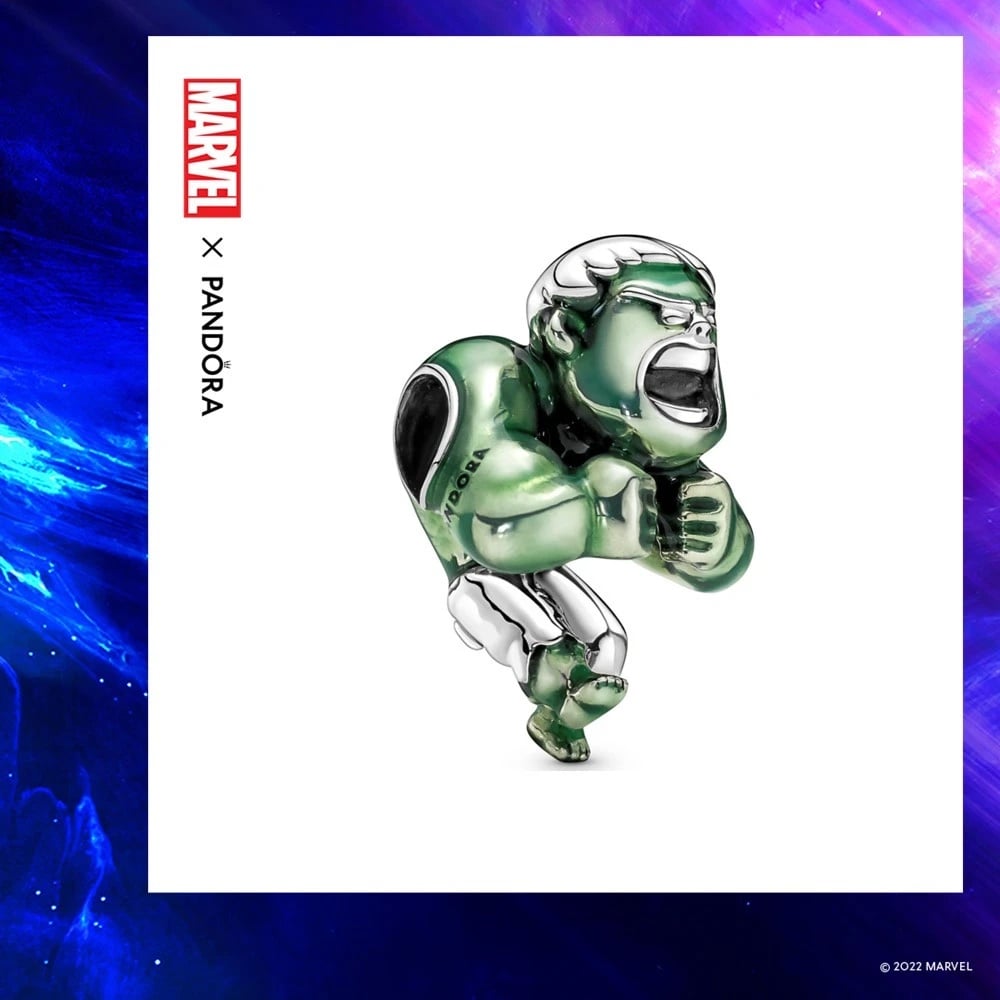 This offering gives Pandora the largest product inventory of any other brand.
The nature of any e-commerce channel is frequent updates, no matter the size of the product inventory or if the promotional event is large or small. To accompany such a large amount of visuals without sacrificing a brand's style equity Pandora turned to design automation to ensure visual consistency as well as produce the required amount of visuals. This collaborative process started with designers setting up branded layouts using brand-defined color palette, logo placement and text styling. In addition, these branded layouts also were tailored for each of the sales platforms to account for the technical and creative requirements of each marketplace. Once the design department was done with their work, non-design teams could batch-populate these layouts with product imagery and relevant information in record time! Design teams can stay focused on creating additional layouts for current and future events and were not distracted by revisions or changes coming from the channels team.
With such a collaborative process, using dipp's e-commerce design automation tools, Pandora's teams can respond instantly to changes or wait until the last minute to finalize the pricing strategy. Such efficiency minimizes resource drain and drives revenue growth.


In-house operated sales channels provide consistency to a busy shopping experience
Currently, a typical e-commerce channel experiences a lot of fragmentation. In addition to e-commerce platforms, there are also smaller communities and social media platforms that have developed e-commerce wings. As mentioned above, Pandora's focus on the direct-to-consumer business model limits them to three online channels that they can themselves manage. Although with only 3 channels, they are able to maintain consistent branding, product launch scheduling and product descriptions. Such consistency gives customers confidence that they are buying from non-other than the Pandora brand itself and not some reseller or worse.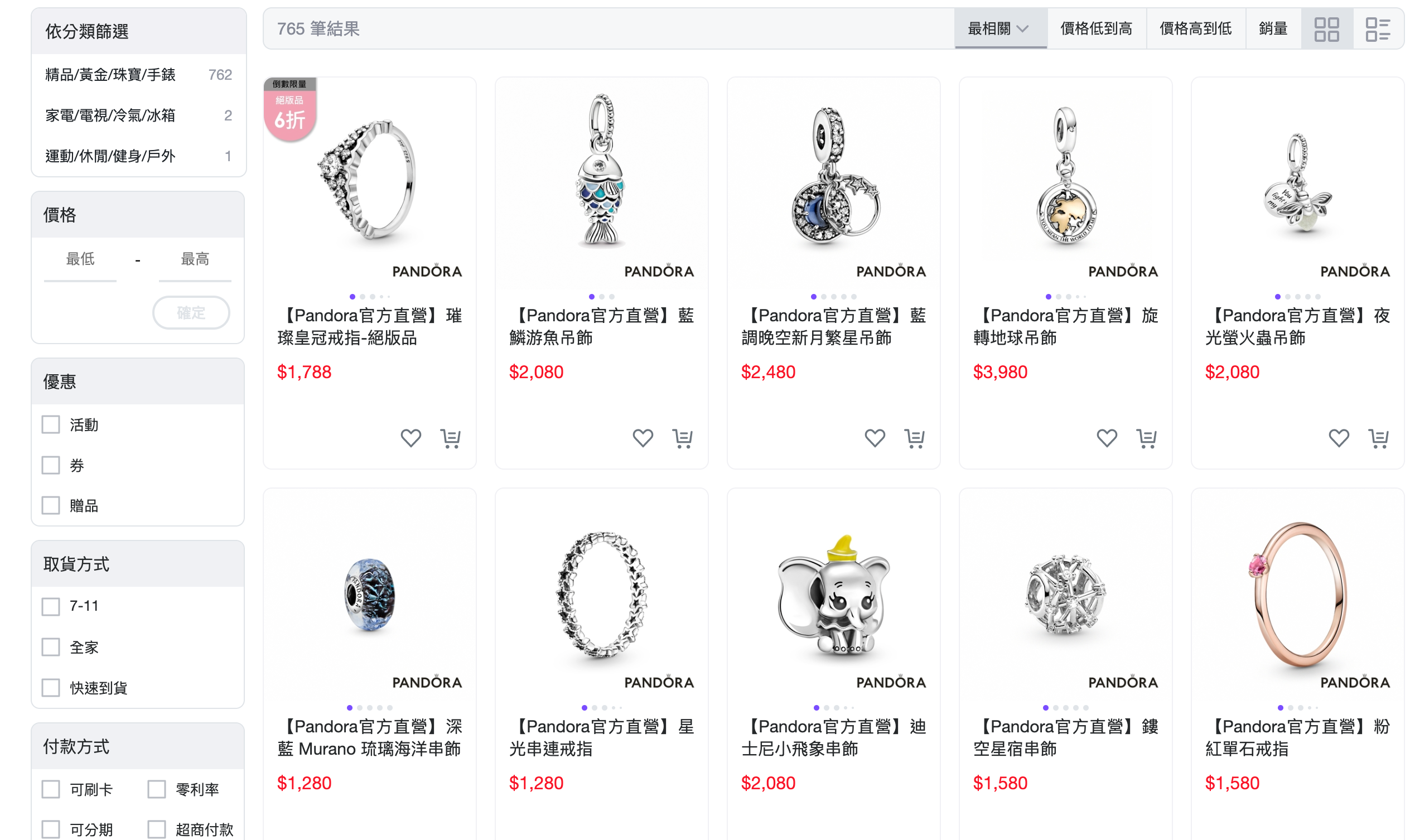 Pandora's Yahoo! store
Internal efficiency drives company growth, in spite of hurdles of a pandemic
Pandora is able to ensure branding consistency through a minimalist visual design style. Apart from that, utilizing a third-party tool to optimize their internal communication process, lead to a more efficient workflow. Sticking to a direct-to-consumer (D2C) strategy, Pandora created a smooth online-merge-offline (OMO) experience. Drove customers to flow in between and let each potential customer directly engage in conversations with the brand at every touchpoint. This approach won Pandora tons of loyal customers and urged them to check out in a timely manner.
Pandora brand story
Pandora, the affordable luxury jewelry brand, has gone from a small Danish jeweler to a global jewelry brand selling a large variety of products in over 100 countries.

In 1982, a goldsmith Per Enevoldsen along with his wife Winnie founded a small jewelry operation in Copenhagen, Denmark. In the early days, Pandora focused on importing from Thailand and with steady growth, shifting to becoming a wholesaler in Denmark. In the late 90s, Pandora hired its first designers to create its own line of jewelry.

From the original objective of personalized, meaningful, affordable and handmade jewelry, to the highly successful charm bracelets, Pandora now boasts presence around the world including United States, Germany and Australia.

Pandora now has created a trend among young audiences around the world and is rapidly gaining market share. In 2011, according to Pandora's records, the brand set a record of selling a product every second and became the third largest jewelry brand after Cartier and Tiffany. Recently, with sales volume slightly declining, Pandora has decided to return to the original objective of providing luxury, handmade jewelry at an affordable price.

With products across six continents and over 7,000 points of sale, Pandora's unique image has formed into a brand as one of the only providers of high-quality, hand-crafted jewelry at an affordable price. Every one of Pandora's clients can express themselves and have a unique charm about themselves.